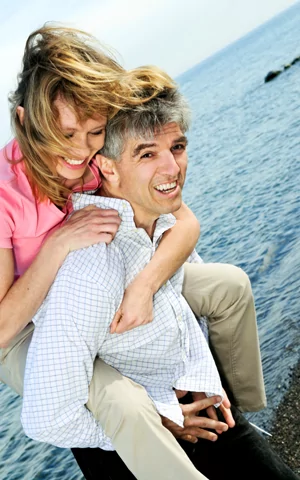 Do you have missing teeth? Are you looking for a permanent solution to replacing missing teeth? Do you have dentures and wish you didn't have to remove them every night? You may want to consider dental implants.
Dental implants are small posts that are implanted directly into your jaw, under your gums. Once your implants have healed, we can use them to secure a prosthetic tooth or even a full set of dentures.
Does Insurance Cover Implants?
That's a great question! The truth is, what insurance does and doesn't cover varies from policy to policy. We will be happy to look at your individual policy and discuss what is and is not covered.
Do You Perform Implants?
At Bloomfield Dental Group, we do not perform the surgery to place implants, but we do place the abutments and dental work that connects to them once your implant has healed.
What Is an Abutment?
An abutment is a screw that is placed into the implant and supports the crown and other dental work that gets secured to the implant.
Why Should I Get An Implant?
Prevent Further Bone Loss | Losing a tooth can cause your jawbone to begin deteriorating. An implant can help halt the progress of bone loss, support the area, and may even promote bone growth.
Teeth You Can Use | A lost tooth can make it hard to chew your food. Once healed, an implant and the attached dental work can help you to chew like normal, without the fear of your prosthetic slipping out of place.
A Full Smile | Missing teeth can make you feel self-conscious about your smile. With implants, you may find yourself smiling more often!
How Does It Work?
While we don't perform implants, we can recommend you a dental surgeon to complete your implant surgery. Once your implant has healed and you are cleared for the next step, we will begin the process of placing the abutment and preparing your implant for a crown or to hold your dentures. When you come in for an appointment, we can discuss all the steps with you.
Take a Step Toward a Better Smile…
At Bloomfield Dental Group, we know how important it is to replace missing teeth. We strongly believe that a good dental implant can improve your quality of life. We are here to help you. Call for an appointment today!